We Provide The Most Effective Chiropractic Solutions in Fontana
Are you dealing with chronic pain in your back or neck? Do you experience a radiating pain in your hips or legs? Or are you suffering from headaches or a general sense of day-to-day malaise? If so, your body is trying to tell you that something's wrong; fortunately, every one of these symptoms can be addressed with a chiropractic adjustment from the experienced expert, Richard Nance at CrossFit Fontana!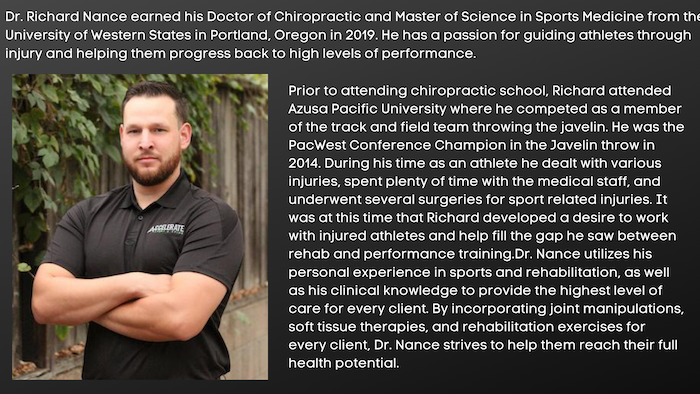 For more information about Chiropractic Services in Fontana, please fill out the form on the side of this screen.
What Are The Benefits Of Chiropractic Adjustments?
At CrossFit Fontana, we'll help you restore your optimal health and movement —and without harsh side-effects! Our goal is to help people from across Fontana engage with life to the fullest, which is why our Chiropractic Program gets to the root of your pain and giving you continuous rehab work to solve it: the biggest mistake you can make when it comes to injury is only committing halfway. Consistency is everything.
In fact, in addition to addressing your aches, pains and other chronic health issues, you'll enjoy countless benefits from our chiropractic adjustments. Here are just a few:
Increased energy and better sleep
Improved digestion and mood
You'll enjoy increased flexibility and mobility
Your immune system will function better
And so much more!
Our services are offered every Tuesday and Thursday from 6:30 AM - 9:30 AM, and every Wednesday from 4:30 PM - 8:30 PM.
Reserve Your Spot Today At CrossFit Fontana!
It can be stressful and disorienting to have an injury or pain that affects your quality of life. Start your Chiropractic journey at CrossFit Fontana and get the most effective results available. Our team will use proven methods to diagnose and eliminate your pain or discomfort.
Just fill out the short form below to get started with our Chiropractic Services!