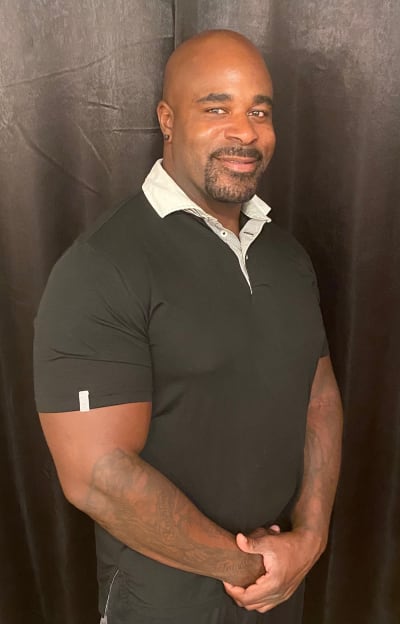 Jamal Mason
Jamal Mason received his Personal Training certification from PTGlobal in 2018 and has trained at such facilities as 24hrs fitness, LA Fitness and Gold's gym. Jamal has a outgoing, enthusiastic and creative personality that will make you feel at ease whether you are brand new to the gym, lifelong athlete or just some that enjoys feeling good.
Jamal Mason possesses the ability to build self-esteem, confidence and image wellness in his clients. He will listen, assess and hold you accountable for your goals. Whether your goal may be improving flexibility, enhancing strength, achieving a target weight, adding lean muscle mass, training for an event or recovering from an injury. Mr. Mason will thoughtfully strategize the best approach to help you make your plan a lifestyle!
Jamal's athletic background consists of playing competition hockey from the ripe age of 4 in Alaska to the age of 24 at the University of Findlay where he studied Physical Education and Business Management. As an athlete playing hockey in several states and countries, he's experienced a variety of training techniques focusing on balance, speed, quickness, agility, overall strength and cardiovascular conditioning.
Jamal is also proficient in Massage Therapy emphasizing sports massage and Deep tissue methods to reach clients desired goals. He obtained his Certification from the American College of Health Care and Technology. With superior knowledge on body mechanics and how to manipulate muscle tissue to improve mobility, enhance recovery, rejuvenate muscle fatigue and increase overall wellness, "todays pain is tomorrow strength."